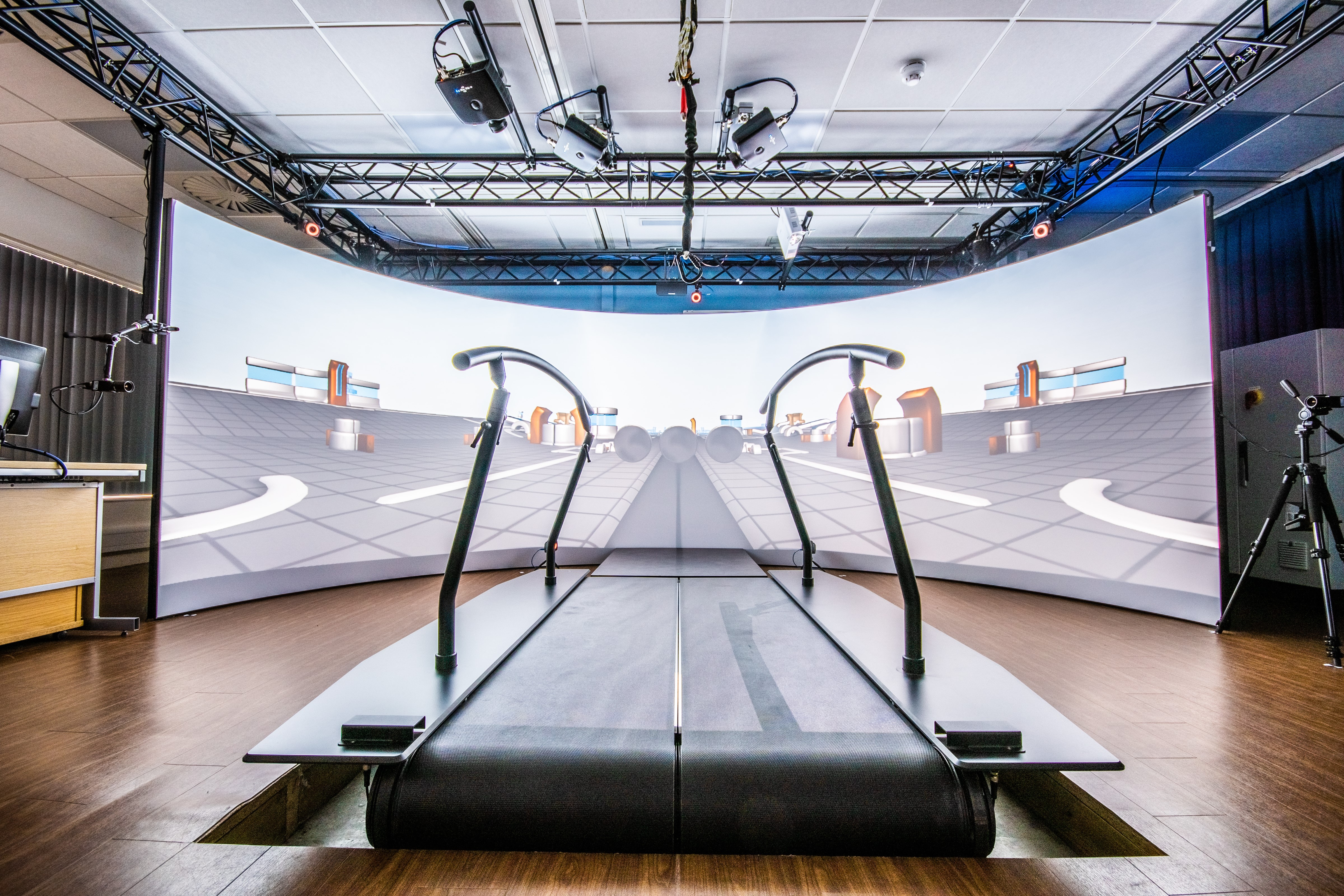 The GRAIL system at the Orthopaedic Research Institute at Bournemouth University, UK.
Whilst Total Joint Replacements are considered to be successful and cost effective procedures for reducing pain and patient reported function, lingering gait abnormalities, prominent limping and/or asymmetrical gait patterns are still seen in patients following surgery. As such, abnormal gait can hinder rehabilitation programmes aimed to restore proper gait rhythm, speed and fluidity of motion. Gait analysis allows investigators to accurately measure the biomechanical parameters of gait.
At the Orthopedic Research Institute (ORI), we are working on a series of exciting projects including: a randomized controlled trial comparing an exercise and education programme with routine physiotherapy care for patients with hip osteoarthritis; the development and validation of virtual reality surgical training simulators; the implementation of Enhanced Recovery After Surgery (ERAS) within the health service; and the evaluation of health outcomes after robotic hip surgery. The robotic hip surgery project is the first in the world to evaluate the recovery of patients who have had routine robotic hip replacement surgery. Patients will be asked to come to ORI to be assessed before they have surgery, and again at different time points following surgery. At each visit they will have their gait tested using the GRAIL system. The muscle strength in their legs will also be measured; along with pain levels and functional ability.
Tom Wainwright, Associate Professor in Orthopaedics
"The Orthopaedic Research Institute (ORI) is driven by the needs of patients and society. Our state-of-the art scientific facilities help us to evaluate treatments for osteoarthritis through high quality research. We use the Motek Gait Real-time Interactive Laboratory (GRAIL) to collect valuable data as an integral part of our musculoskeletal research".
About us
ORI was formed in 2015, and works across academia, hospitals and industry partners to produce high quality research and educational outputs that have a proven impact for patients, clinicians and society. Since its formation, ORI has been awarded over £2.7 million in research funding. It has grown from two to ten members of staff producing numerous peer reviewed publications.
Watch the following video to find out more about the research at the ORI at Bournemouth University.