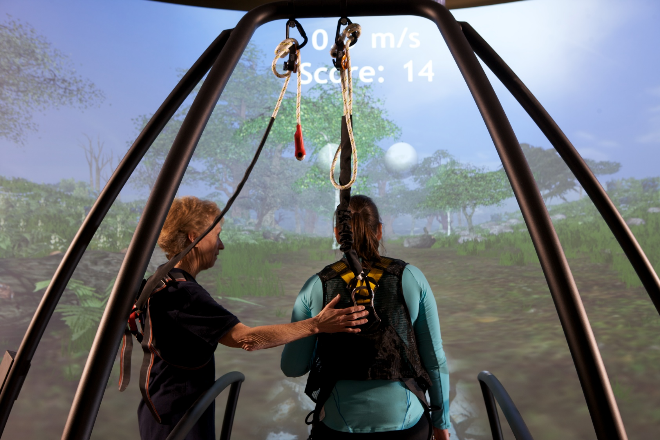 Sylvia Moss, Neuro physiotherapist
BASIC – Brain And Spinal Injury Centre, UK
Using the CAREN for rehabilitation of acquired brain injury patients in the community, once they have been discharged from NHS statutory services.
INITIAL EVALUATION
JH, 31 year old male military veteran sustained a haemorrhagic bleed in the brain due to an arterio venous malformation (AVM) on 24 August 2017. He underwent embolization followed by an induced coma. At 8 weeks, he was discharged from hospital and attended BASIC for an initial assessment.
At assessment he was independent with mobility but required supervision with activities of daily living due to reduced high level balance skills and remaining visual field issues, multi-tasking was difficult and his mood was low.
Pre- and post-treatment clinical measures used were: Mayo Portland Adaptability Inventory (MPAI), Dynamic Gait Index (DGI), 6-metre walk (6-MWT), Nottingham Extended Activities of Daily Living (NEADL), including a self-reported evaluation questionnaire. The clinical outcome measures were chosen related to JH's SMART goals.
TREATMENT
JH underwent 18 sessions on the CAREN in addition to working with neuro-physiotherapists on a preparatory program that included stretches and strengthening exercises. JH also followed a home exercise program.
His goals were to be able to run again, to reduce hypersensitivity of left arm, to increase his social participation, enhance his wellbeing and be able to return to work
CHALLENGING THE PATIENT
For JH the CAREN challenged cognition as well as physical ability simultaneously in a safe environment. We could increase the intensity of the applications e.g. Boat, Traffic Jam to optimise his balance which had been affected at a high level. In addition we were able to build up the training to increase the difficulty, for example with the Rope Bridge, where we could incorporate platform movement as well as the treadmill and finally asking JH to walk without his hands on the bars. His concentration improved so could retain information more which was transferable into real life situations.
The applications used over 18 sessions were:
Kite flyer (trunk stability & dual tasking)
City ride (medio-lateral weight shifting)
Boat slalom (balance and weight bearing/shifting)
Microbes (gait adaptability)
Rope swing bridge (up & down hill walking & dual tasking)
Traffic Jam (one leg stability)
Magicians Apprentice (dual tasking)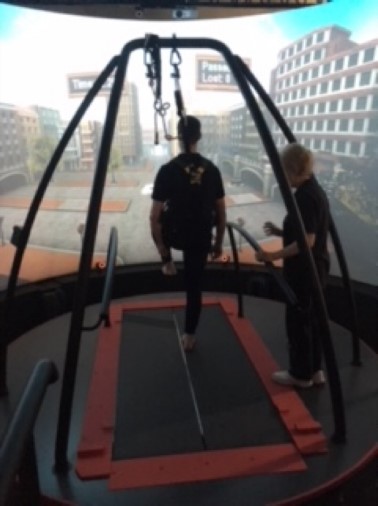 JH treated on the CAREN at the Brain And Spinal Injury Centre (BASIC), UK
OUTCOMES
As shown in the below table, JH was able to reach many of his personal goals. He also stated that the CAREN was motivational, challenging and exciting.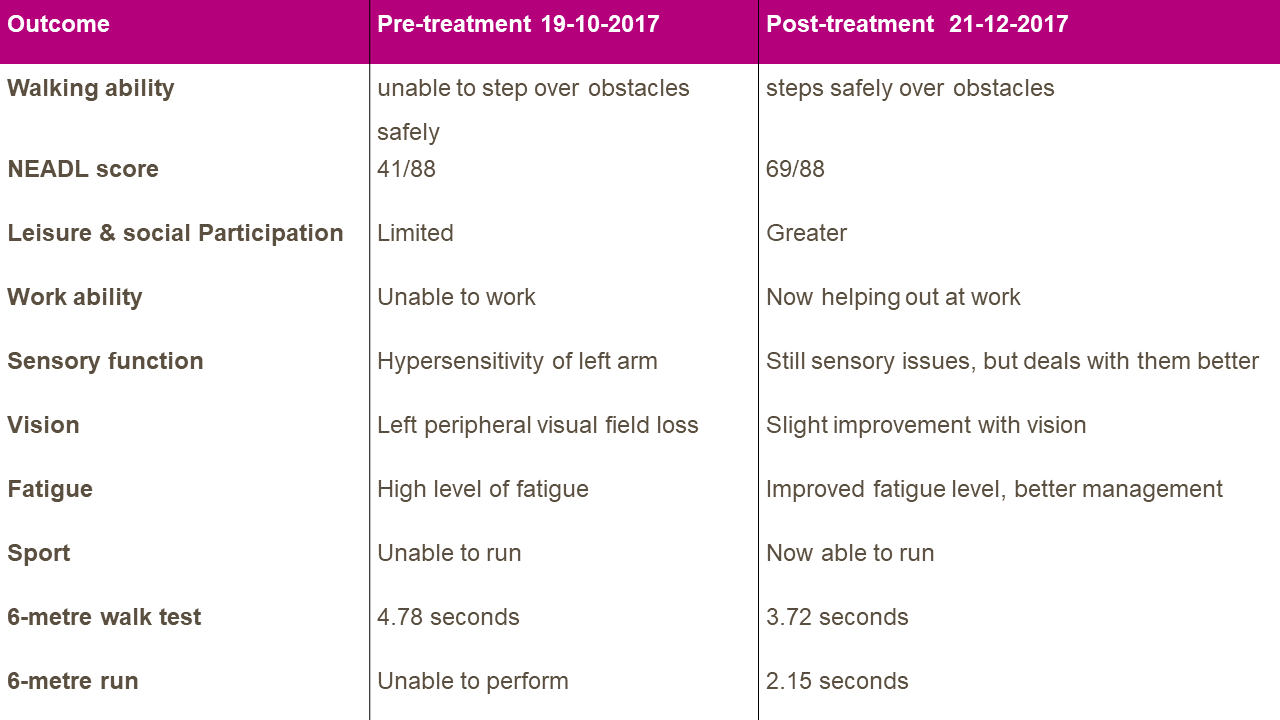 CONCLUSION
CAREN is a rehabilitation tool that enhances further recovery, once patients are discharged from NHS rehabilitation.
The flexibility of the system allows the appropriate applications to be selected to meet the specific needs.
Using the CAREN helped JH reach his goals in a short time by combining the cognitive and physical training in a safe environment.
BASIC – Brain And Spinal Injury Centre
BASIC is a not-for-profit organization affiliated to the Greater Manchester Clinical Neurosciences. We provide community based rehabilitation services for people recovering from acquired brain injury, spinal injury and help people manage long term neurological conditions.
We are delighted to have at our Centre a CAREN Extended, C-Mill and Dynstable.
These technologies are used with children, young people, adults and older people from Greater Manchester and around the UK.
Further information is available at www.basiccharity.org.uk